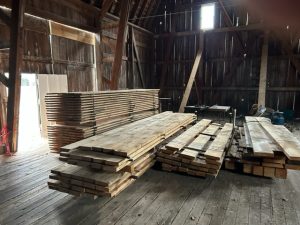 Shed Roof Reconstruction
Perhaps you've driven by the Leelanau County Poor Farm Barn recently and noticed a new addition to the exterior on the west side of the barn. First the cupola, now the shed roof have been reconstructed. As was true for the cupola, the lead carpenter for the shed roof is Ronnie Hines, who is employed by David Webster Construction owned by James Schettek. Schettek is the grandson of John Schettek, the builder of the barn in 1911, according to the specifications of the architect Jens, C. Peterson,
Steve Stier, President of LCHPS and noted Michigan Barn Preservationist, designed the shed roof structure. He had several hints in place both on the barn and on the ground. We've pointed out in several photos where the rough stub ends on the west side of the barn are visible telling us where the shed roof was attached to the barn, (look closely at photo C, three circles are visible on the west side of the barn; those are the rough stub ends from the shed). Further, the old footings are still in place. These artifacts spelled out the shed dimensions for width, height, and depth. Beyond that we have a handful of photos with the shed in the background; one of them below shows the far southwest corner of the barn when it was first built and the other photo displays the shed roof reconstructed from the same viewpoint. Click on each photo below for an enlarged view.
James Schettek dug the holes for the posts in mid-November, then ordered the required inspection, which we passed. After that, he set the forms, poured the concrete, and covered it with specialized industrial blankets to keep the concrete from freezing. On November 29, James Schettek picked up the lumber order of approximately 2200 board feet and delivered it all to the barn in the dark. Actual construction of the shed began on January 9 and was completed on January 13. There are now only three steps left to complete; apply the metal standing seam roof, pour the concrete pad for a floor workspace, and paint the shed roof structure.
The building of the shed roof took place on site and went very smoothly. Ronnie Hines, superintendent of the construction crew, and several other crew members commented on how much they enjoy working on old buildings.
Although the shed roof and floor are fairly simple constructions, they bring the exterior of the barn back to its original appearance and function. We are very pleased to acknowledge that the cupola and shed roof were funded through a grant from the Edmund G. and Virginia Ball Foundation.
This outdoor roofed and floored space suggests all sorts of exciting possibilities for use: demonstrations of farming processes of 100+ years ago, educational programs, concerts, and many more.