The Michigan Historic Marker Program, with over 1700 markers, was established by the Michigan legislature in 1955. It s one for the largest marker programs in the country. The application process is fairly arduous and requires extensive research to lay the groundwork for the story you wish to tell. The key to marker approval is clearly establishing the historical and contemporary significance of your site at the local/regional/state, and national levels. For example, at the local/regional level, our application stressed the legacy of social welfare exemplified by the Poor Farm and included many well documented examples of compassion from Poor Farm staff.
At the state level, while the Leelanau County Poor Farm is one of many in Michigan (nearly every county had some sort of housing option for the indigent), its history has not been told. Given the volume of print media coverage we have received related to our work, the public is clearly hungry for Michigan's history of responding to those in difficult circumstances.
This is certainly a timely topic with the current national conversation and often strife taking place over social equity and social justice. Looking at our past practices of addressing these issues, gives us insight when we take the time to unearth the range of approaches applied, with the most successful often arising at the local level with a good deal of grass roots input. What is most important to keep in mind is that each approach arises out of a particular cultural context at a particular moment in history. Any lessons learned must be understood from those perspectives.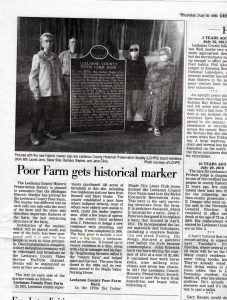 Once the marker application is submitted, it can take up to a year for approval because the documentation you submit must be vetted. Once you receive approval from the Michigan History Commissioners, the collaborative process of writing text for the marker begins.
The Leelanau County Poor Farm marker has arrived and is currently in storage waiting for the moment when it is safe for a crew to work in close proximity and install it just south and east of the Poor Farm Barn, visible from West Burdickville Road and from the barn. A small ceremony will be conducted and videotaped, which will be broadcast on the Leelanau County You Tube channel. Details will be announced on our website home page.