Gabe's Market in Maple City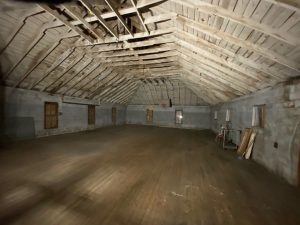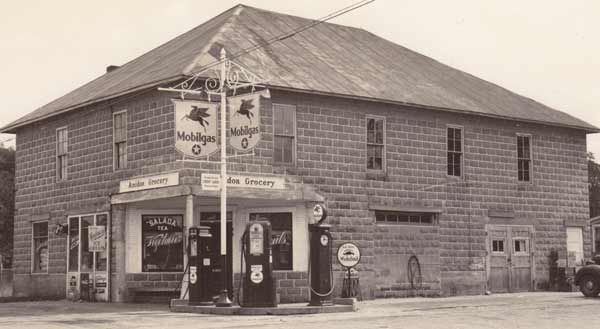 In the summer of 2020, Barbara Siepker and Steve Stier consulted with Meg Paxton (paxtonphotography.com) the owner of old Gabe's Market in Maple City. She made her first contact with LCHPS prior to purchasing the building. Immediately after purchasing, she repaired the roof and obtained drawings from a structural engineer, knowing these are required by code and building inspectors. One exterior wall has bowing due to water infiltration from a leaky soffit. Steve was able to support the structural recommendations and her plans for laying out the downstairs space to work around the existing six support beams. Structural reinforcement to the upper level is in process along with "peeling of the interior layers."
Meg is interested in returning the exterior façade to its original look when built around 1910. The cement block building has served several functions: a garage, garage/service station, and lastly a grocery store. Its boarded-up windows are prime subjects for a LCHPS workshop to be offered by Steve Stier. The workshop will focus on old window repair to meet current energy standards. The building's open second story was used in the past as a meeting place for Polish and Bohemian community members, and perhaps even as a dance hall. Meg has a continuing interest in learning more of the history of the building and possibility of restoration funding or tax assistance.
LCHPS was able to obtain, through generous postcard collector Jill Cheney, several postcard views of the building showing exterior changes and use. Meg in turn assisted on another LCHPS consultation project (the Glen Arbor Cemetery). She removed a stain on the only Trumbull farmhouse image in existence, which pleased Trumbull relatives and current farm owners.
Renamed the Blue Maple, the property is envisioned to be a community space, providing fast internet, a combination of micro-office, rental offices, conference space, and a comfortable seating area. Other possibilities are studio space and retail shop for small dogs (TheTeenieWeenieStore.com). Meg has the ideas, resources and energy to accomplish the necessary step-by-step-rehabilitation.