Kilwy Store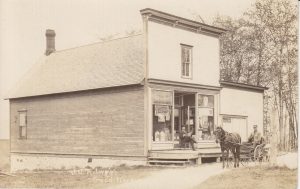 LCHPS was contacted early in 2018 by Guy and Judy Sperry, owners of the J. J. Kilwy Store in Good Harbor. It had been vacant for many years before they purchased it from the Kilwy estate. Prior to contacting us they installed a new metal roof, which is the first and most important contribution to rehabilitation work. They sought help from LCHPS to evaluate the structural integrity of the building, especially the cracking in a corner of the foundation.
Steve Stier and Barbara Siepker made this visit. Steve assured them that the building was structurally sound, cracks minor, and nothing needed immediate attention. The store interior had been stripped of all fixtures, shelving and decoration, but the floor is solid.
The Sperrys also wanted to discuss possible uses for the structure. They both have hobbies and thought of using the attached shed garage as a workshop and art studio. They have thought about creating a residence in the store proper. We supported their exploration of these alternative uses for the potentially lovely space. We also could see their vision for a residence and suggested a loft to allow for more light to enter from the high windows to address their concerns about the dark interior. They found the discussion helpful and supportive of their ideas.
We inquired about the two older buildings at the back of the property, which they showed to us. Both are in sound condition. One had been used as a work room and the other was Ira Kilwy's (son of founder) original house with some interesting features. We were particularly interested in this residence, thinking it would be a worthy renovation project.
By chance Barbara was contacted by family members of the adjacent Kilwy church and cemetery. Contact information was provided to both parties, as neither had direct knowledge of the other. There are concerns for this property that include the beautifully kept private cemetery and the church, which has roof and floor damage. Barbara Siepker and Andy White met with a family member and provided the option of forming a cemetery association to care for the cemetery in perpetuity. They are confident in their ability to continue its care. A LCHPS consultation has been offered to evaluate the church's needs.
Kilwy Store Photo Courtesy of LCHS