Glen Arbor Township Cemetery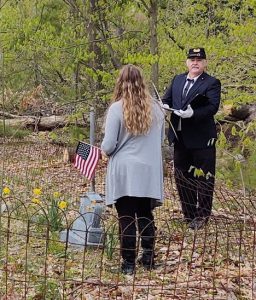 Glen Arbor Township Cemetery 1880-1927
The Township of Glen Arbor purchased one acre of land for cemetery purposes in 1880 from Dr. William Walker for $1.00.  From the first burial in 1880 of a drowned ship crewman, the Glen Arbor cemetery has been the final resting place for at least fifty people until it closed in 1927.  Cemetery records have long been lost and a partial list is currently being pieced together from newspaper notifications and family records.  Only 13 graves have markers, among them two of the four Civil War veterans buried there.  Since 1977 it was believed to be a part of the Sleeping Bear National Lakeshore.  This changed in 2020 after an intensive records search was conducted by Andy White.  After meetings with lawyers, park officials, and a land surveyor, obtaining a title opinion, the cemetery was determined to be the property of the township, having never been legally conveyed to the Sleeping Bear National Lakeshore.  A cemetery oversight committee has now been appointed by Glen Arbor Township.
This long abandoned, secluded forest cemetery drew the attention of passionate citizen, Linda Dewey.  She organized a clean-up project of the desecrated site, which had been crisscrossed by massive trees downed during the infamous straight-line wind storm on August 2, 2015.  In November 2019, fifteen volunteers and machinery from family owned Parshall Tree Service cleared a new entrance and access area.  Art's Tavern provided lunch and Andersons and Cherry Republic supplied snacks.
Early on in her efforts, Dewey enlisted the help of Andy White and LCHPS board member Barbara Siepker.  The request was for help to document ownership of the cemetery, research burial records, and possibly for LCHPS to become the fiduciary agent.  Dewey also organized an 8th grade Glen Lake School project. Students adopted a grave, researched the person buried there, and were to clean-up the site, and attend a memorial service.  Due to Covid restrictions only a small group could attend the memorial service led by John Sawyer, member of Traverse City's Sons of Union Veterans.  Attending was the 3rd great granddaughter of Edmund Trumbull who, until the storm, had taken care of the fenced Trumbull cemetery plot.  LCHPS arranged a visit to the Trumbull farm which included Trumbull's great-granddaughter and the two other students who researched Civil War veteran Edmund Trumbull.